Enviro Voraxial Technology, Inc.
Stock Symbol: EVTN
EVTN is a Fort Lauderdale, Florida based CleanTech company that developed and manufactures the Voraxial® Separator, arguably the world's most efficient, high volume, bulk fluid and fluid/solid separation technology. The Voraxial® performs separation without a pressure drop.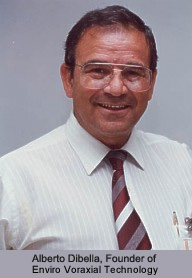 Applications include, but are not limited to: oil spill cleanup, waste-to-energy, onshore and offshore dispersed water separation, frac water, stormwater, refinery wastewater cleanup and bio-fuels. The separation market encompasses many series of multi-billion dollar segments, spread globally across many industries and applications. EVTN's Voraxial® separation systems have completed projects with many of the world's top industrial companies, including ConocoPhillips, Cameco, Repsol, US Navy and Transocean.

EVTN was originally founded as a high precision aerospace manufacturer that built the gyro platforms for the Hubble Space Telescope as well as missile and satellite components.  EVTN re-invested its profits along with equity investors (that include two European Intuitions) toward the development of the Voraxial® Separator. The Voraxial® is now successfully commercialized and is the exclusive focus of EVTN's business. EVTN owns significant intellectual property surrounding the Voraxial® and has new innovations under development to enhance its potentially market dominant technology.

More about EVTN: Enviro Voraxial Technology, Inc. has its roots deep in the precision aerospace and defense industry. In the 1980's, Alberto Di Bella (above) served as the founder and President of Florida Precision Aerospace, a Florida corporation based out of Deerfield Beach. In its prime, Florida Precision Aerospace employed a very large staff and was responsible for precision machining for numerous industries including defense contracting, aerospace, automotive and healthcare. In the early 90's, as the defense budget scaled back, Mr. Di Bella downsized the company and focused on smaller high gross margin jobs in the aerospace industry. Projects include the gyroscope housing for the Hubble Space Telescope, gear shift systems and beryllium manufacturing.
In the 1990's, Mr. Di Bella assisted in the designing and prototype development of the patented Voraxial® Separator. In 1996, Florida Precision Aerospace acquired Idaho Silver, a public company, and changed its name to Enviro Voraxial Technology, Inc. The company continues to operate as Enviro Voraxial Technology and its subsidiary, Florida Precision Aerospace, for reason of defense qualification procedures.
---
From a 2012 Interview with CEO John Di Bella, "Our technology fills a void in one of the largest market sectors in the world, which is the ability to separate contaminants from a large volume of liquids with less space, energy and weight. This increases productivity and significantly reduces costs for our customers. "
"Our customers include some of the largest companies in the world… If you extrapolate this out twelve to twenty-four months from now, there is no reason why we are not generating 4 to 8 times what we generated last year. That is exciting!" - John A. DiBella Entire interview here:
scroll down on this page
or
pdf
(
newsletter version
)