June 8, 2014
Repeat Voraxial Order for 17,000 BPD Produced Water Treatment 
Enviro Voraxial Technology announced today that it received a repeat purchase order for its high volume Voraxial® 4000 Separator. The Voraxial® Separator, which was recently shipped, will be used at a production facility to separate oil/water/solids from produced water. -
The Voraxial® 4000 Separator, processing up to 500 gallons per minute or 17,000 barrels per day will be installed after the Free Water Knockout (FWKO) to separate both solids and oil from produced water. Operators and disposal facilities are seeking advanced technologies to reduce the cost and increase the separation efficiency of treating produced water. Since the Voraxial® doesn't require a pressure drop, it can be easily retrofitted into an existing system.
The characteristics of the Voraxial® Separator, including small footprint, low energy requirements, high separation efficiencies and ease of installation and operation, provides the operators an efficient and cost-effective solution to treat their produced water. Additionally, the Voraxial® can be supplied within a complete turnkey system to treat a variety of fluid streams to reduce the customers treatment cost and increase the separation efficiency.
As oil is extracted out of the ground it contains a large quantity of water, called produced water. Produced water comprises over 98% of the total waste volume generated by the oil and gas industry, making it the largest volume waste stream associated with oil and gas production. Oil reservoirs frequently contain large volumes of water and as oil wells mature, the amount of oil produced from the well decreases while the amount of water needed to be treated increases.
In the continental United States, it is estimated that more than 10 barrels of water are produced for each barrel of recovered oil. The efficient separation of oil from produced water and the environmentally responsible treatment of the remaining water are critical processes in the production of oil. EVTN's Voraxial® Separator offers the industry an economical solution to treat this increasing volume of produced water. EVTN is receiving an increased amount of inquiries for its Voraxial® Separator.
-
Share this:
---
---
Vice President of Marketing and
---
Safe Harbor Disclosure -- This Release contains or incorporates by reference "forward-looking statements," including certain information with respect to plans and strategies of Enviro Voraxial® Technology, Inc. For this purpose, any statements regarding this announcement, which are not purely historical, are forward-looking statements, within the meaning of the Private Securities Litigation Reform Act of 1995, including Enviro Voraxial® Technology, Inc. beliefs, expectations, hopes or intentions regarding the future. All forward-looking statements are made as of the date hereof and based on information available to Enviro Voraxial® Technology, Inc. as of such date. There are a number of important factors that could cause actual events or actual results of Enviro Voraxial® and its subsidiaries to differ materially from those indicated by such forward-looking statements.
---
Requests for Voraxial&Produced Water Paper by Transeparation

Discussion of  the successful installation of the Voraxial Separator at its customer's onshore production facility in Argentina. This paper is available upon request. Contact: Laura DiBella at  Laura@evtn.com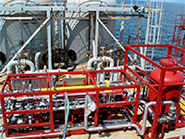 ---
The Voraxial®, combined with other equipment - above - is a compact turnkey solution installed on an offshore FPSO. 

The Voraxial® is separating oil and sand at a rate of up to 15,000 barrels/ day with a discharge of <10ppm and without a pressure loss. 

Fluid pressure is approximately 150psi.  The customer can not afford to lose any fluid pressure in completing the separation.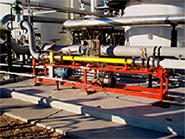 The Voraxial® 4000 Separator above processes up to 17,000 barrels per day separating solids and oil. The Voraxial® is installed via a flange connection within the customers' existing pipeline. The fluid pressure is approximately 20-35psi.
---
---
Follow us on :

"Dirty water is killing more people than wars and other violence combined…" – Christian Science Monitor