March 3, 2014
Voraxial Declared Winner of Offshore Offshore Arabia 2014 Excellence in Environmental Technology Award
Enviro Voraxial Technology, Inc. (OTCBB:EVTN)announced today that the Regional Clean Sea Organization (RECSO) declared Enviro Voraxial Technology Inc. the winner of the Offshore Arabia 2014 Conference & Exhibition Excellence in Environmental Technology Award, with its paper titled "Voraxial® Separator Overview".
RECSO is a non-profit organization with the genuine objective to protect the regional seas and environment from oil pollution, as well as, championing new technologies and renewables as part of their future vision.
"We are proud to be recognized by RECSO," stated John A. Di Bella, CEO of EVTN.  "As interest for the Voraxial continues to increase, EVTN is being requested to review opportunities in different regions of the world."
The Offshore Arabia 2014 Conference & Exhibition is to be held in Dubai from March 3-5, 2014 at the Dubai International Convention Centre, Dubai, UAE.  This prestigious international conference and exhibition is to be held under the patronage of HH Sheikh Mohammed bin Rashid AL Maktoum, Vice President and Prime Minister of the UAE and Ruler of Dubai.  The winners will be recognized during the Gala Dinner on March 4th, 2014 at the Armani Hotel-Dubai.
-
Share this:
---
---
Vice President of Marketing and
---
Safe Harbor Disclosure -- This Release contains or incorporates by reference "forward-looking statements," including certain information with respect to plans and strategies of Enviro Voraxial® Technology, Inc. For this purpose, any statements regarding this announcement, which are not purely historical, are forward-looking statements, within the meaning of the Private Securities Litigation Reform Act of 1995, including Enviro Voraxial® Technology, Inc. beliefs, expectations, hopes or intentions regarding the future. All forward-looking statements are made as of the date hereof and based on information available to Enviro Voraxial® Technology, Inc. as of such date. There are a number of important factors that could cause actual events or actual results of Enviro Voraxial® and its subsidiaries to differ materially from those indicated by such forward-looking statements.
---
Requests for Voraxial®Produced Water Paper by Transeparation

Discussion of  the successful installation of the Voraxial Separator at its customer's onshore production facility in Argentina. This paper is available upon request. Contact: Laura DiBella at  Laura@evtn.com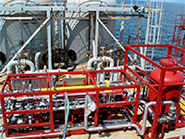 ---
The Voraxial®, combined with other equipment - above - is a compact turnkey solution installed on an offshore FPSO. 

The Voraxial® is separating oil and sand at a rate of up to 15,000 barrels/ day with a discharge of <10ppm and without a pressure loss. 

Fluid pressure is approximately 150psi.  The customer can not afford to lose any fluid pressure in completing the separation.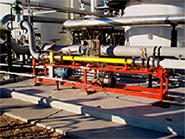 The Voraxial® 4000 Separator above processes up to 17,000 barrels per day separating solids and oil. The Voraxial® is installed via a flange connection within the customers' existing pipeline. The fluid pressure is approximately 20-35psi.
---
---
Follow us on :

"Dirty water is killing more people than wars and other violence combined…" – Christian Science Monitor