BioFuel Market Entry: New Order Received
Dec. 9, 2010 - Enviro Voraxial Technology, Inc. (OTCBB:EVTN.ob ) announced today that it received an order from a premier chemical and engineering company to commence an oil/water separation trial in the large and rapidly expanding bio-fuel production sector.  The global bio-fuel market was estimated to be $30B in 2008 and is expected to grow to $42B by 2013.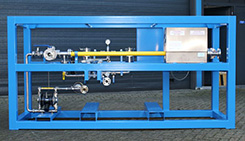 Voraxial® 2000 unit.

The process of separating oils extracted from plant material or algae is an excellent application for EVTN's high efficiency Voraxial® separators.  For the trial, EVTN will initially deploy a Voraxial® 2000 Separator (pictured above) to separate oil from water at rates up to 60 gallons per minute.  Full-scale installation will require multiple Voraxial® 4000 Separators, each capable of processing 500 gallons per minute.

Conventional Separation equipment of equivalent size does not approach the processing volume, energy efficiency and performance features of the patented Voraxial® technology.
This announcement is one of a series of recent orders received by EVTN from customers in a variety of major market segments and applications.  Fluid and fluid/solid separation represents a multi-billion dollar global opportunity. The increasing order activity indicates that the market is recognizing the superior performance capabilities and cost benefits of the Voraxial®.  Recent orders have come from the energy, mining, environmental, waste and recycling industries.
About Enviro Voraxial Technology:  
EVTN is the developer and manufacturer of the Voraxial® Separator, an efficient, high volume, low energy and compact bulk fluid and fluid/solid separation technology.  The separation market encompasses a series of multibillion dollar segments, spread globally across many industries and applications.  The Voraxial® configuration is a unique, patented, in-line, continuous processing separator, that is capable of pumping and simultaneously separating up to three components, such as oil, water and sand.  

Voraxial® bulk separation, for a given volume, is achieved at a small fraction of the weight, size, energy requirement, maintenance and cost of conventional separators. The Voraxial® is scalable to handle very large volume requirements and slurries with high solid content. The Voraxial® can be used as a stand alone or incorporated with other equipment to provide a complete solution to the customer.  EVTN owns significant IP surrounding the Voraxial® and has new innovations under development.
Media Contact