December 11, 2012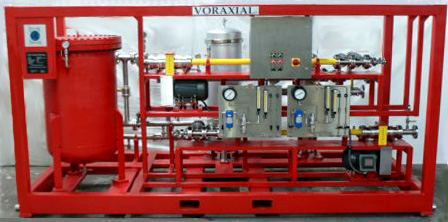 Enviro Voraxial Technology, Inc. (OTCBB:EVTN) received another multi-unit purchase order for its high volume Voraxial® Separators.  The Voraxial® 2000 Separator System and Voraxial® 4000 Separator will be installed at the customer's production facility for bulk oil/water/solids separation.  This is the first order EVTN has received from this customer, one of the largest National Oil Companies in Latin America.  Discussions are underway for potentially more units in different locations.
The Voraxial® 2000 System and Voraxial® 4000 Separator, designed to be installed for both onshore and offshore platforms, will be utilized for the separation of oil and sand from produced water at the customer's onshore production facility.
Produced water is a major issue for oil companies as it comprises over 98% of the total waste volume generated by the oil and gas industry.  It is estimated that over 211 million barrels of water need to be treated each day in the oil industry.
EVTN's growing penetration into the oil & gas market is resulting in increased sales and deployments.  EVTN is expecting to achieve additional installations in 2013 as the Voraxial® Systems are being deployed for both offshore and onshore production facilities in various applications, including produced water, fracturing, refinery and tar sands.
"We believe that the Voraxial's® continued exposure to the industry, coupled with these installations and our growing relationships with our customers will result in more project opportunities and deployments in the near future.  We are excited about this relationship, as well as its future potential," stated John A. DiBella, CEO of EVTN.
The water that is extracted from the ground with the oil is called produced water.  Produced water comprises over 98% of the total waste volume generated by the oil and gas industry, making it the largest volume waste stream associated with oil and gas production. Oil reservoirs frequently contain large volumes of water and as oil wells mature, the amount of oil produced from the well decreases while the amount of water needed to be treated increases. 
In the continental United States, it is estimated that more than 10 barrels of water are produced for each barrel of recovered oil. The efficient separation of oil from produced water and the environmentally responsible treatment of the remaining water are critical processes in the production of oil.  EVTN's Voraxial® Separator offers the industry an economical solution to treat this increasing volume of produced water.    
Due to contractual agreements, often required by major corporations, the customer name is withheld. 
Share this:
---