March 12, 2014
EVTN Ships Voraxial® for North American Produced Water Treatment Sector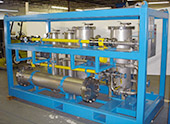 Enviro Voraxial Technology, Inc. announced today that it has received a purchase order for its Voraxial® 2000 Separator from a multi-national firm. The Voraxial® Separator, which was recently shipped, will be installed for pretreatment bulk oil/water/solid separation. This application and customer represents multi-unit potential for EVTN in the North American produced water* treatment market, which is estimated at $2.4 billion.
Since the Voraxial® is compact, complete turnkey systems can be supplied to treat a variety of fluid streams to reduce the customers overall treatment cost and increase separation efficiency.
The Voraxial® Separator provides a cost effective method to efficiently separate large volumes of solids and liquids with different specific gravities. Without creating a pressure loss, the Voraxial® provides quality separation while decreasing the amount of space, energy and weight to conduct the separation - all of which are precious commodities in a variety of markets.This application for the Voraxial® represents a large global market requiring bulk oil, water and solid separation as a critical part of the oil production process.
**As oil is extracted out of the ground it contains a large quantity of water, called produced water.  Produced water comprises over 98% of the total waste volume generated by the oil and gas industry, making it the largest volume waste stream associated with oil and gas production. Oil reservoirs frequently contain large volumes of water and as oil wells mature, the amount of oil produced from the well decreases while the amount of water needed to be treated increases.  In the continental United States, it is estimated that more than 10 barrels of water are produced for each barrel of recovered oil. The efficient separation of oil from produced water and the environmentally responsible treatment of the remaining water are critical processes in the production of oil. EVTN's Voraxial® Separator offers the industry an economical solution to treat this increasing volume of produced water. EVTN is receiving an increased amount of inquiries for its Voraxial® Separator. 
Due to contractual agreements, often required by major corporations, the customer name is withheld. 

Share this:
---