September 5, 2014
Enviro Voraxial Technology Appoints New Board Member
Enviro Voraxial Technology Inc.(OTCOB:EVTN) announced today that Mr. Raynard Veldman has joined EVTN'S Board of Directors.
Mr. Veldman brings to EVTN over 30 years of experience in the domestic and international oil and gas industry, which includes a specific focus on business unit management, product line management, R&D and tech services, sales and engineering. Mr. Veldman has extensive knowledge in pumping services, chemical manufacturing, produced water management, oil and gas production, gas processing and oil refining.
Recently, Mr. Veldman has been employed in senior management positions in business and product development at oil field chemicals manufacturing and upstream service companies. Mr. Veldman has a M.S. in Chemical Engineering from the University of Houston and a B.S. in Chemical Engineering from the University of Texas.
"I am excited to join EVTN's Board," stated Mr. Veldman. "The Voraxial Separator has attained recognition in the oilfield water treatment market and we have a tremendous opportunity to make improvements in our market share." 
"All of us at EVTN are proud to welcome such a distinguished individual to our Company," stated John A. DiBella, CEO of EVTN.  "Mr. Veldman has already helped us establish valuable contacts and sales opportunities in the oil industry."

Share this:
---
---
---
Safe Harbor Disclosure -- This Release contains or incorporates by reference "forward-looking statements," including certain information with respect to plans and strategies of Enviro Voraxial® Technology, Inc. For this purpose, any statements regarding this announcement, which are not purely historical, are forward-looking statements, within the meaning of the Private Securities Litigation Reform Act of 1995, including Enviro Voraxial® Technology, Inc. beliefs, expectations, hopes or intentions regarding the future. All forward-looking statements are made as of the date hereof and based on information available to Enviro Voraxial® Technology, Inc. as of such date. There are a number of important factors that could cause actual events or actual results of Enviro Voraxial® and its subsidiaries to differ materially from those indicated by such forward-looking statements.
---
Requests for Voraxial&Produced Water Paper by Transeparation

Discussion of  the successful installation of the Voraxial Separator at its customer's onshore production facility in Argentina. This paper is available upon request. Contact: Laura DiBella at  Laura@evtn.com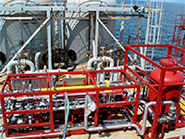 ---
The Voraxial®, combined with other equipment - above - is a compact turnkey solution installed on an offshore FPSO. 

The Voraxial® is separating oil and sand at a rate of up to 15,000 barrels/ day with a discharge of <10ppm and without a pressure loss. 

Fluid pressure is approximately 150psi.  The customer can not afford to lose any fluid pressure in completing the separation.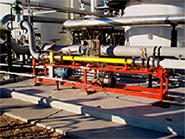 The Voraxial® 4000 Separator above processes up to 17,000 barrels per day separating solids and oil. The Voraxial® is installed via a flange connection within the customers' existing pipeline. The fluid pressure is approximately 20-35psi.
---
---
"Dirty water is killing more people than wars and other violence combined…" – Christian Science Monitor