The Voraxial
®

Separator Profile
Pressure, Flow and Energy Excellence:
No Pressure Drop / provides a pressure increase
High "G" force
High flow, small footprint, low energy
Separates 3 Components Simultaneously:

Oil/water separation
Liquid/solid separation
Liquid/liquid/solid separation
Compact Unit – Small Footprint–
Scaleable Models:

Voraxial® 1000 Separator – 1-15gpm
Voraxial® 2000 Separator – 20-60gpm
Voraxial® 4000 Separator – 100-500gpm
Voraxial® 8000 Separator – 1000-5000gpm
More Benefits:
Treats a wide range of flows, even slugging flows
High performance over a wide concentration range without any adjustments
Handles slugging of gas
Operates with low or high inlet pressure
Gas slugging does not effect separation performance
Low shear impeller – oils are not emulsified
Non-clogging – open impeller
Variable speeds to optimize separation
Patented technology
Multiple Industry Uses:

This video shows the Submersible Voraxial®
used in the Gulf Spill Trials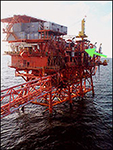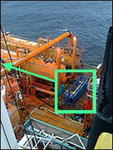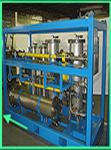 Small foot print of the Voraxial® Skid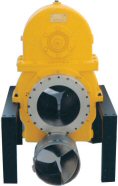 Voraxial® 8000: 1000-5000gpm
Products and Applications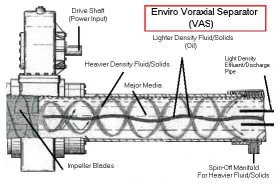 The Voraxial® Separator

Non Clogging
The Voraxial® Separator is fitted with a patented non-clog, low-shear rotary assembly designed to create a vortex in the fluids flowing through the separator.

By this action, heavier materials (such as solids) are forced to the outside of the vortex while lighter materials (such as oil) are drawn to form the central core of the vortex, thereby creating separated flow streams.

A specially designed manifold is utilized at the exit of the separation chamber to collect the separated streams.
Four different models
Enviro Voraxial Technology manufactures four different models of the Voraxial® Separator that can handle virtually any flow rate.  The Voraxial® can be equipped to do 2-way or 3-way separation. 
Model

Flow Rate
GPM
Diameter
Size
Voraxial® 1000
1-5
1 inch
Voraxial® 2000
20-60
2 inch
Voraxial® 4000
100-500
4 inch
Voraxial® 8000
1000-5000
8 inch
The Voraxial® does not need a pressure drop to provide efficient separation allowing the Voraxial® to be utilized in very low pressure or high pressure applications. 
Due to the fact that the Voraxial® can process a high volume of liquids with a small footprint, complete turnkey systems centered around the Voraxial® Separator are built to meet customer's specific discharge requirements.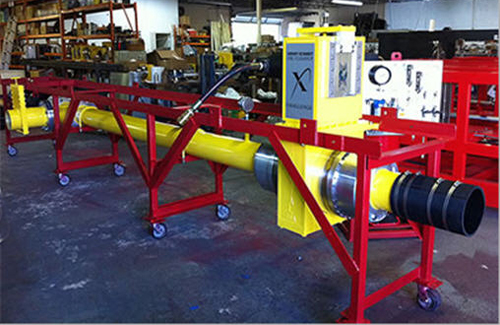 Submersible Voraxial® 8000 Separator above is compact, lightweight and capable of processing up to 7,000,000 gallons of oil/water mixture per day (a rate of 5,000 gallons per minute). It can operate at various ocean depths allowing the operator more flexibility to treat various types of spills such as oil that resides on the surface or oil that is being released on the ocean floor.

By conducting the separation in the ocean, the vessels can skim the spilled oil for 10 times longer since the amount of collected clean water in the holding tanks is reduced by 90%. The collected oil is discharged into a holding tank while the clean water remains in the ocean. This new method enables any fleet of vessels to process significantly more volume of skimmed oil/water mixture, collect more oil, capture a higher concentration of oil, remain in operation longer and skim at faster forward speeds. The Voraxial® can also be secured onboard the vessel to achieve the same flow rate efficiency. Similar to other auxiliary equipment on vessels such as firefighting hoses, the Voraxial's small footprint allows it to be secured on any size vessel, such as supply vessels or tug boats, without interfering with the main function of the vessel.

Since the Voraxial® 8000 is not much wider than an eight inch pipe, multiple Voraxial 8000 models, each capable of processing 7,000,000 gallons of oily water per day, can be easily retrofitted on an average size supply vessel or tug boat. By installing the high volume, compact units on supply vessels or tug boats, an average size vessel can quickly convert to a high volume oil spill recovery vessel. Only 30 such supply boats each equipped with two units of the Voraxial 8000 Separators would be able to process more than 9.5 million barrels per day (400,000,000 gallons per day). Smaller, shallow draft vessels can also be equipped with a high volume Voraxial Separator for oil spills in difficult areas such as estuaries and rivers and to provide high maneuverability in harbors and congested locations.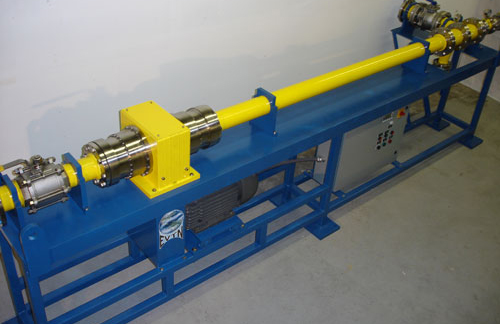 Voraxial® 4000: 100-500gpm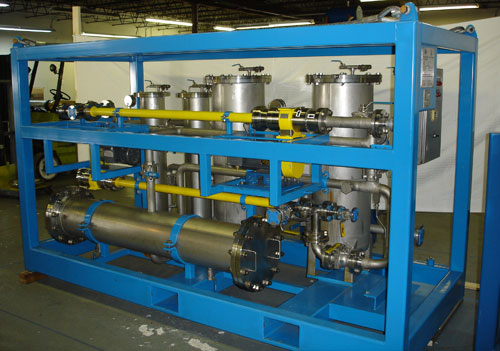 Voraxial® 2000 Separator Skid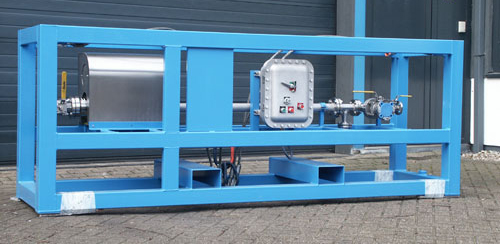 Voraxial® 2000: 20-60gpm


The Voraxial 2000:
Nominal Flow of 20 to 60 GPM
Design Pressure/Temperature 250 psi/250F
Construction Materials 316 SS
3 Hp, 3 Phase, 60 Hz, Explosion-proof Motors
Design Rotational Speed 6000 RPM
Maximum "G" Force of 1000
Skid Produced Water Test Results to Meet Customers Discharge Requirements