The Voraxial
®

Separator Profile

Non Clogging

The Voraxial® Separator is fitted with a patented non-clog, low-shear rotary assembly designed to create a vortex in the fluids flowing through the separator.

By this action, heavier materials (such as solids) are forced to the outside of the vortex while lighter materials (such as oil) are drawn to form the central core of the vortex, thereby creating separated flow streams.

A specially designed manifold is utilized at the exit of the separation chamber to collect the separated streams.
Pressure, Flow and Energy Excellence:
No Pressure Drop / provides a pressure increase
High "G" force
High flow, small footprint of the Voraxial® skid, low energy
Separates 3 Components Simultaneously:

Oil/water separation
Liquid/solid separation
Liquid/liquid/solid separation


Compact Unit – Small Footprint–
Scaleable Models:


Model

Flow Rate
GPM
Diameter
Size
Voraxial® 1000
1-5
1 inch
Voraxial® 2000
20-60
2 inch
Voraxial® 4000
100-500
4 inch
Voraxial® 8000
1000-5000
8 inch


More Benefits:
Treats a wide range of flows, even slugging flows
High performance over a wide concentration range without any adjustments
Operates with low or high inlet pressure
Gas slugging does not effect separation performance
Low shear impeller – oils are not emulsified
Non-clogging – open impeller
Variable speeds to optimize separation
Patented technology
Multiple Industry Applications:


This video shows the Submersible Voraxial®
used in the Gulf Spill Trials




This video shows the Voraxial® 2000 Skid
performing Produced Water Separation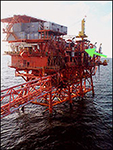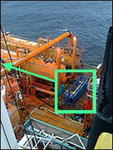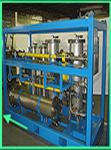 Small foot print of the Voraxial® Skid
Products and Applications

Four Model Sizes
Enviro Voraxial Technology manufactures four different models of the Voraxial® Separator that can process volumes from three to 5,000 gallons per minute. The Voraxial® can be equipped to do 2-way or 3-way separation. Each Voraxial® Separator is custom built to fit each customer's needs. View the models and several applications below or download a pdf brochure
here.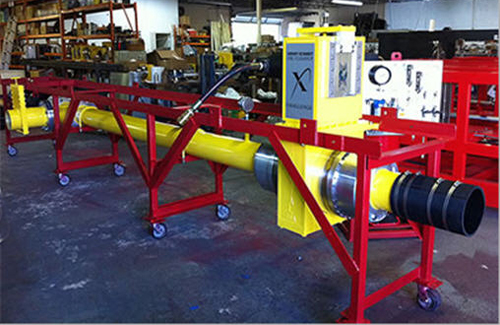 Voraxial® 8000 Separates 1000-5000 GPM
Voraxial® 8000
Separates solids and oil from water at a rate of up to 170,000 barrels a day. The uniqueness of the Voraxial® Separator is its ability to separate contaminants, such as oil and sand, from large volumes of liquids and without any pressure drop, enabling it to be utilized in many different applications, both offshore and onshore.
~~~~~~~~~~~~~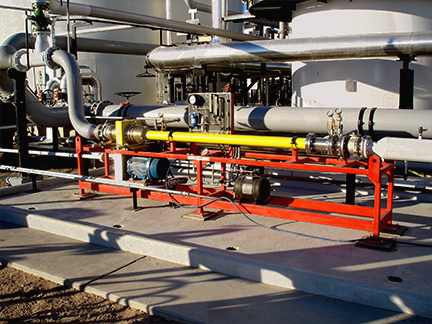 Custom Voraxial® Skid

The Voraxial® (above) can be easily mated to existing pipeline or equipment, supplied within a complete turnkey solution, or retrofitted into existing water treatment systems to improve the separation efficiency and reduce wastewater costs.

Operators will experience immediate savings in acquisition, installation, operation and maintenance costs.

The Voraxial® provides consistent separation without requiring any adjustments if the inlet oil or sand concentration and flow rate fluctuates. The standard Voraxial® is rated for 250psi and 250F but it can also be built to withstand more pressure or higher temperatures should the application require.
~~~~~~~~~~~~~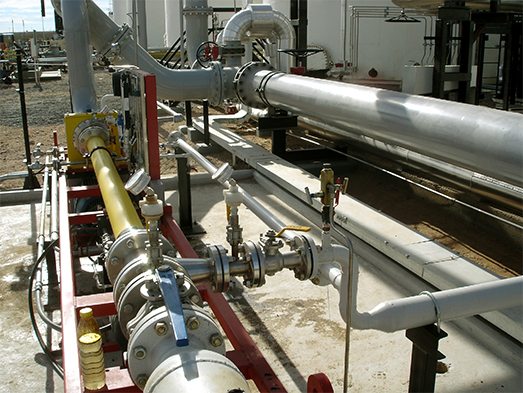 Voraxial® 4000 Separates 100-500 GPM
Voraxial® 4000
Separates solids and oil from water at a rate of up to 17,000 barrels per day. The Voraxial® is installed via a flange connection within the customers' existing pipeline. The fluid pressure is approximately 20-35psi.
~~~~~~~~~~~~~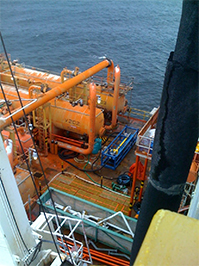 APPLICATION Pretreatment The Voraxial® 4000 Separator processes between 4,000 to 17,000 barrels per day as a pretreatment to provide a consistent influent stream to the IGF.

By installing the Voraxial® as a pretreatment, the customer increased separation efficiency
from: 72% without the Voraxial®
to: 93% separation with the Voraxial®.
~~~~~~~~~~~~~

APPLICATION Oil and Sand Separation: The above Voraxial®, combined with other equipment, is a compact turnkey solution installed on an offshore FPSO.


Is separating oil and sand at a rate of up to 15,000 barrels per day
A discharge of <10ppm and without any pressure loss.
Fluid pressure is approximately 150psi.

The customer cannot afford to lose any fluid pressure in completing the separation.
~~~~~~~~~~~~~
APPLICATION Water and Sand Separation: Two views of a complete turnkey system that includes three Voraxial® Separators working in parallel and in series, separating sand from water at rates of up to 30,000 barrels per day. The Voraxial® system is installed via hose connection to the customers existing system. The fluid pressure is approximately 15psi.

Download a pdf of all of the above systems.

~~~~~~~~~~~~~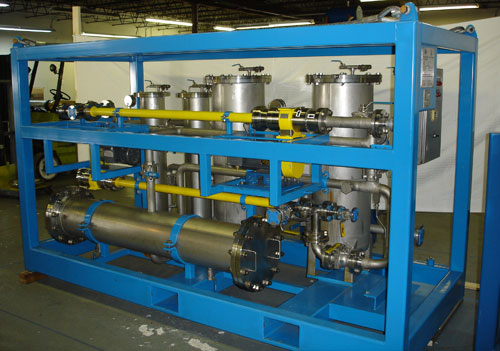 Voraxial® 2000 Separator Skid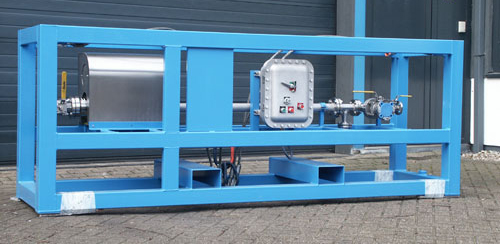 Voraxial® 2000 Separates 20-60GPM

Voraxial® 2000
Nominal Flow of 20 to 60 GPM
Design Pressure/Temperature 250 psi/250F
Construction Materials 316 SS
3 Hp, 3 Phase, 60 Hz, Explosion-proof Motors
Design Rotational Speed 6000 RPM
Maximum "G" Force of 1000
Skid Produced Water Test Results to Meet Customers Discharge Requirements
Voraxial® 1000
Nominal Flow of 1 to 5 GPM
Applications
Oil water separator for oil & gas exploration and production (short video)

Grit separation
Municipal wastewater treatment
Oil spill (letter from State of Alaska)
Food processing wastewater treatment
Fuel separation

Manufacturing
Refinery wastewater treatment
Salt water disposal

Stormwater separation of wastewater
Uranium production wastewater treatment
Waste-to-energy processing
see case studies-videos for more details on above applications.